If you aren't currently working out with a partner- I seriously suggest finding one & trying out my #FFavorites 3-piece circuit! (Link up with the gorgeous Heather over at Housewife Glamour for Friday Favorites) This circuit targets your back, rear delts (shoulders) and core.  I've been completing a strength circuit built like this the last four weeks with a friend & already she is noticing a difference in her strength & overall muscle tone.
This Lululemon Gym bag is my favorite: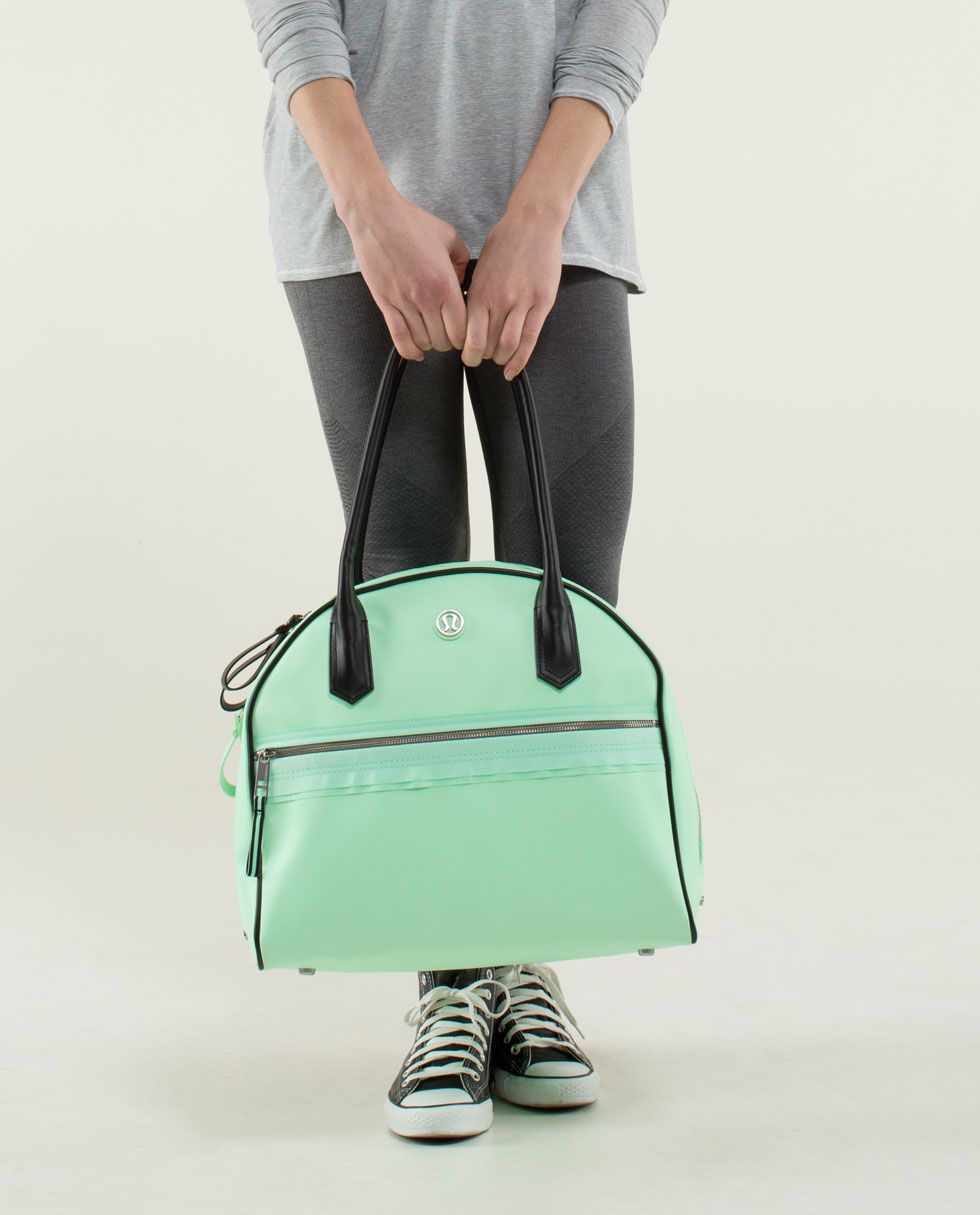 My favorite items that you'll always find inside my gym bag?
A cute baseball hat (to cover my sweaty mess of a head)
DKNY Be Delicious perfume (a must for going anywhere after the gym)
Mac Ruby Woo Lipstick (I use it on my lips & as a blush!)
Baby wipes! Yes.Baby wipes. It's the next best thing to a shower after a workout when you have 0 time!
A Questbar, because going anywhere after a workout on an empty stomach is a terrible idea for me.. and anyone who runs into me when I have low blood sugar 🙂
& last but not least, a long sleeve T + a scarf. It makes your workout gear seem a little more pulled together & presentable (especially with a baseball cap!)
My favorite compliment of the week (although it was not framed like one) :
Member: Carr, I thought of you yesterday, you know who you look like? Shakira.
Me: Really? Thank you.
Member: Yeah, when you actually shower & do your hair you look identical.
A) Notice that there was a caveat. When my hair isn't slicked back, sweaty & in a ponytail, I may look presentable.
B) I've never gotten Shakira before, maybe I don't see it because of the blue vs. brown eyes.
C) I think I have a very familiar face. A lot of people say they know someone who "looks identical" to me. I get Brittany Snow every once in awhile or Kate Hudson, but Shakira is a new one.
Whose your celebrity look-alike?
What's your favorite item to throw on after a workout to look somewhat pulled together? What are your gym bag essentials?